We understand how important cleanliness is to the health, safety, wellbeing and reputation of your facilities. Now, more than ever.
At Caravan, we offer a broad spectrum of full-service janitorial and custodial services to a variety of businesses and industries.
From corporate headquarters, healthcare and educational campuses, R&D facilities to manufacturing and entertainment venues, Caravan has the people, processes, tools and expertise to deliver all your janitorial needs efficiently.
The JANITORIAL
Services We Offer:
Carpet Cleaning

Event Deep Cleaning

Hard & Soft Floor Care
Routine Housekeeping

Window Washing

Disinfection Touch Point Cleaning
Waste & Recycling

Matting Problems

Pressure Washing
Production Line Cleaning

Environmental Sanitation
*This is not an extensive list of the services we provide. To see an extensive list of the services we provide, reach out to us.
Benefits of Janitorial Services
Entrusting your janitorial services to an experienced facilities management partner ensures that your facilities will represent the desired image and environment your company portrays to employees, customers and shareholders. Our janitorial processes, tools and employees will safely and efficiently deliver the desired cleanliness levels that meet client expectations. Ultimately, janitorial services result in benefits like:
A safe and healthy
work environment
Janitorial services enhance the workplace experience and employee productivity
A professional company image
that helps retain and attract employees
Because of clean, professional facilities and productive workplace
Peace of mind
From knowing that the facility is a safe and healthy work environment
Our Commitment to Operational Excellence
At Caravan, delivering excellence means providing safe and quality services to all of our customers, all of the time. We do this by maintaining our safety certifications and by consistently improving our processes, procedures and technology. We also audit our work through our FM-Q platform to ensure we are delivering high-quality services that exceed customer expectations.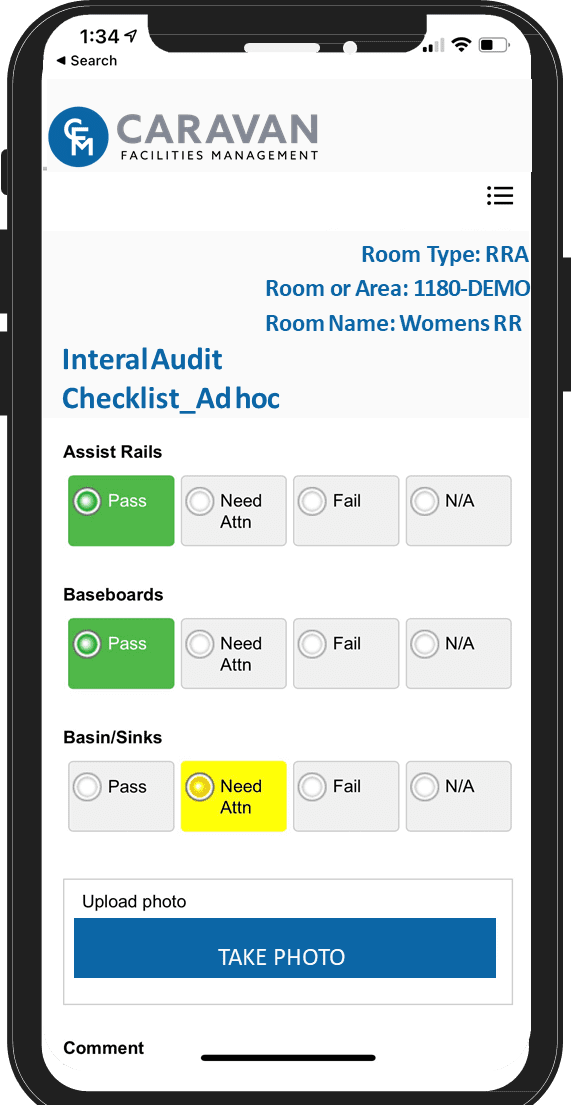 FM-Q Facility
Audit Process
At Caravan, we're focused on continuously improving our services, quality of work and safety procedures. To accomplish this, we've incorporated an audit process app and system into our internal procedures. The FM-Q audit process:
Provides real-time feedback by utilizing Caravan's FM-Q mobile app technology.
Includes details like room number, description, photos, date/time and SLA score.
Allows client access to an executive summary dashboard.
Allows performance to be measured by the client, operations manager and site manager.
Provides feedback for training and continuous improvement to improve quality and lower costs.
"I appreciate your attention to the details of the audit and your professionalism at our facility.  Your experience and knowledge was very evident with your report out."
Our Awards & Certificates
At Caravan, safety and quality are our overriding priorities, and we're continuously evaluating and improving our standards. We are proud to be the recipients of the Fortune 100 Client's Top Diversity Supplier Performer Award Platinum.
We're also proud to be certified by the following organizations: