Integrated Facilities
Management
The ability to create an integrated self-performance services model is one of the core advantages of working with us. Instead of hiring and managing multiple vendors, which can be stressful and inefficient, choosing one partner frees up valuable time, resources and money.
At Caravan, we've had years of experience providing integrated facilities management services to many different size clients in a variety of different industries. Our focus is on providing you with expert management, a self-performed delivery model, and processes and technology that help you focus on what you do best. You handle your core business; we'll handle the rest.
Let us be the single point of contact for all your facility management needs at one site or for your entire portfolio.
Why Outsource Your Facilities to a Service Provider?
There are many different reasons why companies and organizations partner their facilities management services.
Allows companies to focus on their core business.

Helps companies standardize and simplify their operations.

Shifts risk of operation to the facility management partner.

Optimizes facility and business performance.

Captures critical operational and financial data to improve capital planning.
Integrated Facility Management
Technology Platform

Building Maintenance:
Preventative – Predictive

Facility Operations: HVAC, MEP

Manufacturing Support Services:
Paint Booth & MOV Fleet
Soft Services: Landscaping and
Snow Management

Janitorial & Housekeeping

Workplace Experience: Moves, Adds & Change
*This is not an extensive list of the services we provide. To see an extensive list of the services we provide, reach out to us.
Optimizing Facility Performance
We optimize facility performance by understanding our clients' goals, current portfolio conditions and performance expectations. Through collaboration with our clients and customizing our Facility Performance Playbook to meet operational to financial expectations, we can optimize outcomes that will deliver the following benefits:
Year-over-year operational budget glidepath savings
Vendor consolidation
Enhanced brand Image of the facilities
Extended asset life cycle
Improved reliability and availability of assets
Increased talent acquisition and retention
Improved strategic asset planning with AI data analytics
Improved capital planning
Our Commitment to Operational Excellence
At Caravan, delivering excellence means providing safe and quality services to all of our customers, all of the time. We do this by maintaining our safety certifications and by consistently improving our processes, procedures and technology. We also audit our work through our FM-Q platform to ensure we are delivering high-quality services that exceed customer expectations.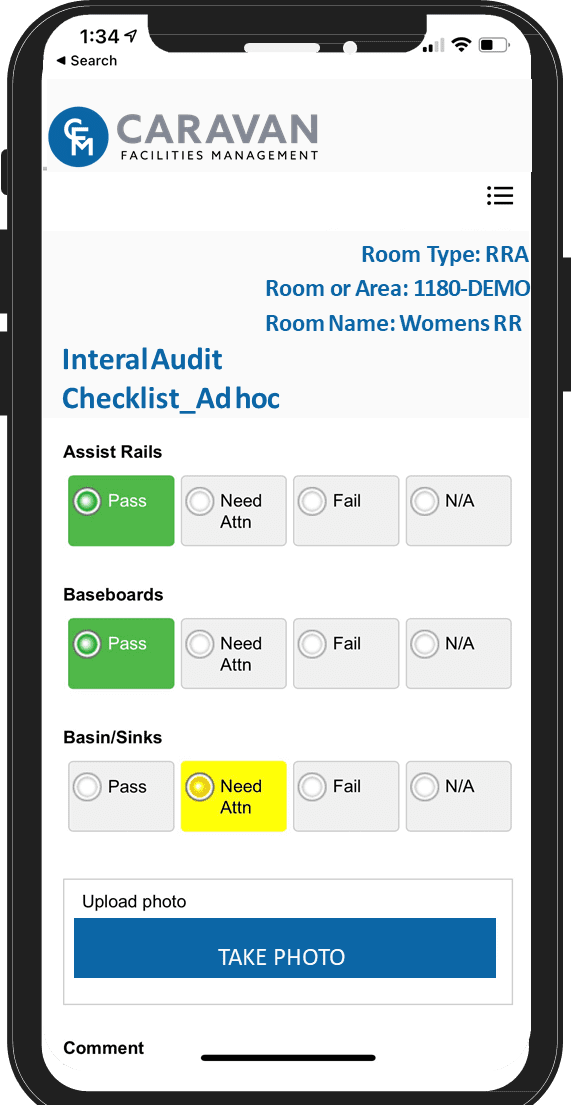 FM-Q
Technology Platform
Our FM-Q technology platform provides industry-leading capabilities that provide the basis for our entire IFM model. The technology enables our dedicated client team to develop and execute a customized maintenance strategy for your facility.
Maintenance management / Workorders
Asset management
Workflow management
Service management
Contract management
Procurement management
Financial management
Inventory management
Facility AI Analytics
Handheld service devices for our technical and non-technical self-performance teams
All these capabilities allow you to boost reliability, lower costs and improve customer satisfaction.
"CaravanFM, our FM provider, has successfully deployed and implemented our technology platform within our complex manufacturing environment, which yielded improved service response, lowered service cost and increased KPIs."
Our Awards & Certificates
At Caravan, safety and quality are our overriding priorities, and we're continuously evaluating and improving our standards. We are proud to be the recipients of the Top Shop Award. This award exemplifies excellence in service delivery to support our manufacturing process.
We're also proud to be certified by the following organizations: